Hot Springs
Waterton Hotsprings?
The other day I paid my first visit to the Banff hot springs. I was surprised how enjoyable they were. While basically just a hot water pool, the atmosphere wasn't quite as sanguine as I thought it was going to be. Although I wonder if part of that was due to the cute bikini clad blonde I got to sit next to. Actually it was quite enjoyable being able to relax outside with a decent view of Rundle in the background. Which brings me to my next question, where is a poor fishy white frozen watertonite supposed to go for sulphuric fun?
I beleive the Lodge still has their fitness center open this year. While frequently broken for long spells, the hot tub there makes for a nice rest. Unfortunately they never did get the layout of the buildings quite right when it was desinged. Also the windows tend to steam over, watering down the views of Bear's Hump.
Lussier Hot Springs
is about 6 hours or so away near the town of Canal Flats. It has a decent sized pool that is fairly accesible and usually quite busy. Giblratar wall isn't that far away. Also the skiing up by top of the world is supposed to be quite nice.
Lussier Hot Springs
Dewar Springs is a summer time option. Although the small pool size, and burning water makes enjoying them a bit of work.
For those that don't mind a long approach to poach a privately owned spring, Three Medicine Springs at the head of Gibson's reservoir is an option. So far I have only wandered by it twice. Since both those trips were in the day, I didn't have the guts to wander around in front of the dude ranch looking for the exact location. If the reservoir freezes, this could be a nice ski trip. The back country valleys are quite open, and there is lots of gentle touring terrain further up the main valleys.
The natural springs around the Missoula area are my personal favorites. They are about an 8h drive from Waterton. The three pools at
Jerry Johnson
are usually crowded, and for good reason. Located at 50m apart, each has a unique feel. One is in a small gravel bed in an open field, another is under trees in a pine canopy, and the last is high among boulders looking out on a meadow. The
trailhead
is well marked.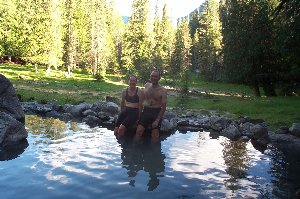 Upper Pool at Jerry Johnson
If you are in the area,
Weir Creek
is my favorite. it has a nice setting up a hillside in the trees. The water in these areas is also a lot less murky than even Lussier.
Weir Creek
For all the information, try
Hiking Hot Springs in the Pacific Northwest
. It has good directions, and lots of info.